Heritage grant for Liverpool church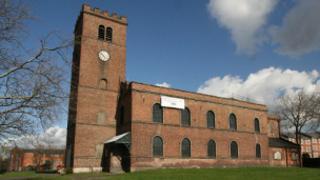 One of Liverpool's oldest churches has received a £400,000 English Heritage grant to help fund its restoration.
St James Church on Upper Parliament Street received the money for a new roof as part of a restoration project due to start in the summer.
The Anglican church, built in 1775, closed in the 1970s and lay derelict for 36 years before reopening in 2009.
Church services currently take place in a marquee inside the building due to problems with the ceiling and heating.
The Archbishop of York, John Sentamu, visited the parish for the announcement and said he was impressed by how the congregation had grown.
"To see a tent inside a church building and to be told that it began with a tiny little tent and has expanded and expanded from nothing to what it is... all I can say is Praise be God," he said.
"I think it is so imaginative. Daring to believe. Daring to hope. It has blown my mind away."
The project still needs to find an additional £160,000 to finish the planned building work. Further plans also include the creation of community facilities and new housing around the church site.
Reverend Neil Short, Vicar of St James in the city, said the grant would help get the plans for the parish moving.
"This is great news for us as a church and it is certainly great news for this area. We believe regenerating this building could help to regenerate this corner of the city," he said.
He said they would like to put a new roof on the church this summer and later work on the inside of the building.
The Grade II listed church is one of the oldest buildings still standing in Toxteth and is architecturally important as it is one of the first buildings in the UK to be built using cast iron columns.