Art by prisoners goes on display in Liverpool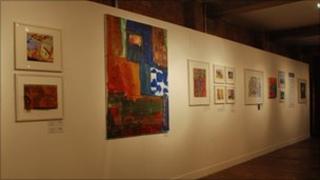 Artwork created by prisoners and patients in secure hospitals is on display in Liverpool.
The exhibition, Art by Offenders and Secure Patients, is the city's first to show and sell artwork from people held in secure units and on probation in the North West.
Paintings, sculpture, creative writing and music are exhibited in the Contemporary Urban Centre.
Work was selected from entries to the 2010 Koestler Awards charitable scheme.
'Come to terms'
Chief Executive of the Koestler Trust Tim Robertson told BBC Radio Merseyside the scheme encouraged offenders to communicate through art.
"To do well in the arts you have to be disciplined. Offenders are people who have failed to take account of the effect of their actions on other people at some point.
"You have to think if you are creating something artistically, what are you communicating? What effect is that going to have on other people?
"You have to communicate. You have to come to terms with your own feelings and you have to shape something that is positive.
"We have judges who give feedback and encourage them to take part and do the best they can in the arts."
Young people from HM Young Offenders Institution Thorn Cross, near Warrington, have also been invited to write short poems in response to art works in the exhibition.
Art for sale
Their responses will be displayed alongside the artwork.
The exhibition in Liverpool includes artwork for sale, with half of the profits going to the artists.
"I think that is a good and sensible way of encouraging positive skills. Twenty five per cent comes to us, 25% goes to victim support charity," said Mr Robertson.
The Koestler Awards, founded in 1962 by writer Arthur Koestler after his experiences as a political prisoner, gave him an insight into the relationship between imprisonment and creativity.
The exhibition runs at the Contemporary Urban Centre in Liverpool until 27 March, 2011.