Catholic order could reopen Wirral's Dome of Home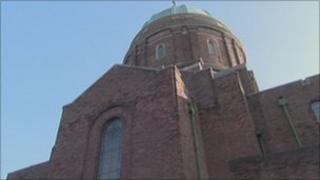 Church officials are in talks with a Roman Catholic religious order to reopen a landmark Wirral church.
Ss Peter and Paul's in New Brighton was closed by the Diocese of Shrewsbury in 2008 because it was deemed too large and expensive for its congregation.
Its side chapel was recently reopened to the public after a local campaign.
Now the Institute of Christ the King Sovereign Priest, a group which has experience of reopening churches, has expressed an interest in the site.
The order, which is based in Florence, has about 70 priests and mainly concentrates on missionary work by running parishes and schools in 12 different countries.
Latin Mass
Priests from the institute conduct Mass in Latin in a service known as the Extraordinary Form of the Roman Rite.
This form of Mass is already celebrated by a visiting priest from the order in a weekly service at Sacred Heart Church in Moreton, Wirral.
Should the order take over the running of the church, the Bishop of Shrewsbury, the Right Reverend Mark Davies, will consider provision of Mass in English.
He said: "I welcome the interest shown by the Institute of Christ the King in establishing a new foundation in the Diocese and working for the restoration of the Church of Ss Peter and Paul, New Brighton."
Monsignor Gilles Wach, the French founder of the Institute, is to visit the church for talks with the bishop after Easter.
If they are successful, it will be the first Catholic church in Britain to be run by the institute, the diocese said.
Canon William Hudson, a spokesman for the institute, said: "It is a very serious proposition and while there are a number of issues that need to be addressed - notably financial - we are sure that the faithful will be just as generous as when the church was built.
"I am confident that with the guidance of the bishop, a solution can be found to the benefit of the Catholic community at large."
The Grade II-listed church, which first opened in 1935, is known as the Dome of Home because it is one of the first things seafarers see when they sail back to Liverpool.
It stands above the Bay of Liverpool on a sandstone outcrop and can be viewed from as far away as Llandudno in North Wales.
Although its side chapel was recently re-opened for use, the main part of the church needs significant investment and repairs, the diocese said.