Justin Bieber fans force closure of Liverpool street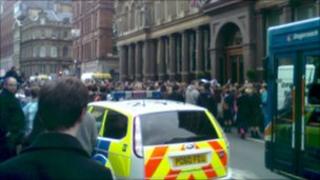 Crowds of Justin Bieber fans forced the closure of a Liverpool road as they gathered in their hundreds outside his hotel ahead of a concert.
The 17-year-old Canadian is staying at the Hard Day's Night Hotel on North John Street.
News of his arrival on Thursday spread on social networking sites, prompting more than 500 fans to congregate on the street below his hotel suite.
Police said a teenage girl was taken to hospital after falling in the crowd.
Singer-songwriter Bieber, who was discovered on YouTube, is due to play a concert at Liverpool's Echo Arena on Friday.
Merseyside Police said that a team of officers closed North John Street at about 1600 GMT after traffic was brought to a standstill.
A police spokesman said that the fans, who were mainly of school age, were chanting the singer's name and calling for him to appear at the window of his hotel bedroom.
The spokesman said: "Officers are working with the management of the hotel and with Justin Bieber's security team to ensure his safety, the safety of other guests and of the crowd."
The spokesman added: "Merseyside Police has at no time threatened to arrest Justin Bieber or members of his management team."
Mike Dewey, general manager at Hard Day's Night Hotel, said: "As a result of a VIP guest staying at the hotel crowds have gathered on North John Street.
"We are taking every precaution to ensure the security of the hotel and the safety of our guests."