Families win asbestos payouts in Supreme Court hearing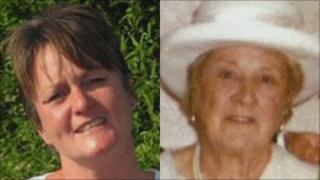 Two families have won ground-breaking claims for compensation after loved ones died from cancer after exposure to "low level" asbestos on Merseyside.
The Supreme Court ruled in favour of the relatives of Dianne Willmore and Enid Costello, who both suffered malignant mesothelioma.
Mrs Willmore, from North Wales, was exposed to asbestos while a school pupil, and died in 2009, aged 49.
Mrs Costello was exposed to asbestos at work. She died in 2006, aged 74.
Mrs Willmore is believed to be the first person to receive compensation after being exposed to the substance at school.
She died the day after a judge ruled she was entitled to £240,000 compensation.
Unanimously dismissed
The award, made against Knowsley Council for negligently exposing her to asbestos fibres, was frozen while the authority appealed against the decision.
The mother-of-two contracted the cancer after being exposed to asbestos dust while at Bowring School in Huyton, in the 1970s.
Mrs Costello was said to have breathed in dust containing asbestos when she was a secretary at a packaging factory in Ellesmere Port.
Her daughter, Karen Sienkiewicz, won the right to compensation from her former employer Greif (UK) Ltd.
The Court of Appeal had ruled compensation should be paid in both cases, but Knowsley Council and Greif fought the rulings in the Supreme Court.
The council and Greif had argued they could only be held liable if it could be proved they were responsible for causing exposure to asbestos that had at least "doubled the risk" of mesothelioma.
But seven Supreme Court justices unanimously rejected the argument, ruling there was no requirement for a claimant to show a doubling of risk.
'Absolutely delighted'
Whether exposure was too insignificant to be taken into account was a matter for the trial judge on the facts of each particular case, they ruled.
The ruling has been welcomed by both families.
Ruth Davies, solicitor for Mrs Willmore's husband Barre said he was "absolutely delighted about the result".
"He knows how pleased Dianne was knowing on her deathbed that her family would be provided for," she said.
"He was relieved that she was unaware of this appeal. The compensation won't bring Dianne back but will provide some solace."
She added: "These cases were another attack on asbestos disease victims.
"The defendants were trying to change the law that has been working perfectly well for many years so that fewer people who are dying can get properly compensated."
Mrs Costello's daughter Kath Howard said the family was "very emotional".
'Long struggle'
"It is a decision that is the right decision, not just for my mum but for everybody else that comes after her."
She added: "Six years is a long struggle. We have not been able to concentrate on grief. We have not been able to concentrate on mum."
The family's solicitor, Norman Jones, said: "The dangers connected with asbestos exposure and the risks of mesothelioma have been known to employers since the early 60s.
"It would be manifestly unfair if the law had been changed to deny victims of one of the worst fatal industrial diseases from receiving fair compensation."
A spokesperson for Knowsley Council said: "It has always been clear that Mrs Willmore suffered from a severe illness which was caused by exposure to asbestos and the council is, and always has been, extremely sympathetic towards Mrs Willmore and her family."
Greif UK Ltd declined to comment.