Thornton mother arrives safely home from Libya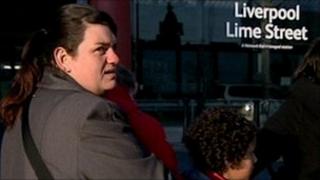 A Merseyside woman who was stranded in Libya with her two young children has returned to the UK.
Jennifer Currie, 28, left in just her pyjamas with her daughters aged six years and eight months.
Their Libyan father, who she met on Merseyside, does not have a UK visa and was left behind.
Jennifer, of Thornton, Crosby, was visiting her partner's family in Gharyan, south of Tripoli, when the protests began.
Her local MP has criticised the Foreign Office's response to her problems.
Ms Currie travelled to Libya with her partner and children to visit his family about six months ago.
She had been too afraid to travel the 80 miles (129km) to the capital with her two young daughters for a flight out.
But she eventually left the country in the last 48 hours, travelling through Tunisia and flying home via Germany.
'Sound of gunfire'
Ms Currie, who left during the night, phoned her mother Gillian Currie, who lives in Bootle, while she was travelling home.
"As I was talking to her she said, 'Mum we're going down the road, can you hear the gunfire?'
"Then she said, 'Mum I'm through the checkpoint. Somebody is coming to meet me with the passports.
"I went down on my knees and cried and cried."
The family's MP Bill Esterson, (Lab Sefton Central) said he was "disgusted" at the way the Foreign Office had handled the case.
"We are talking about a British national and her two very young children who are literally petrified," said Mr Esterson.
"My staff have been on the phone speaking to Jennifer and have been able to hear the gunshots going off outside her house.
"We simply could not leave anyone in danger like that. But that is exactly what the Foreign Office was going to do.
"We have had to fight every single step of the way on this, from getting guarantees that the flight would be provided to bring Jennifer and the children home to ensuring that she will be given transportation back from Heathrow to Thornton once she landed.
"This is a terrified young mum and two young girls we are talking about."
The Foreign Office said it refuted any suggestion it had failed to help Ms Currie and her children.