Noel Gallagher sings on Miles Kane's debut album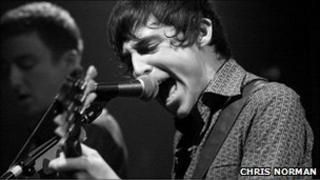 Wirral singer songwriter Miles Kane's debut album will feature harmonies sung by Noel Gallagher.
The Oasis star sings on the track My Fantasy on Kane's first solo album, Colour Of The Trap.
The album, released on 9 May, also features two tracks produced by Super Furry Animals' musician Gruff Rhys.
Kane, formerly of the Last Shadow Puppets and Wirral band The Rascals, is currently supporting Liam Gallagher's new project Beady Eye on their UK tour.
He told the BBC that working with Noel Gallagher was a spontaneous collaboration.
"I was mixing my album, he came down for a coffee, I was gonna put these harmonies on and he ended up doing it. Simple as that."
Kane admits that working with the biggest names in the industry has helped him to develop his solo career.
"It's great to have this kind of support at such an early stage."
"During my first week of recording as a solo artist he [Gruff Rhys] really boosted my confidence. I can't think him enough and I'd love to work with him again.
"He's a lovely guy and he has a great aura about him."
Kane's album also worked with San Francisco-based hip-hop producer Dan 'The Automator' Nakamura on the album, and says as he has adapted to writing on his own, his work has become more emotional.
"There's a lot of feelings on this record. And I wasn't afraid to put them on there because I thought, 'if I'm going to do it, then I'm going to let it all out there'. I've laid it all on the line."
Mile Kane will be performing at St Georges Hall for Liverpool Sound City on 20 May 2011.