Jaguar announces £2bn supply contracts for Evoque model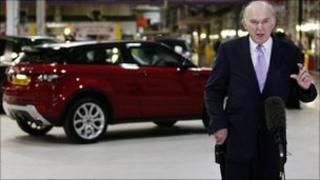 Jaguar Land Rover has announced more than £2bn of supply contracts to more than 40 companies in the UK for its new Evoque model.
About 1,500 new recruits are being taken on at the Halewood plant on Merseyside.
The announcement was made by Business Secretary Vince Cable, who toured the factory on Wednesday.
He also visited supplier International Automotive Components, one of the companies awarded a contract.
Mr Cable said: "Jaguar Land Rover's news that it's awarding £2bn worth of contracts to businesses in the UK to supply components for the Evoque shows that the UK automotive supply chain is capable of winning major contracts and creating vital jobs in the UK."
Jaguar Land Rover chief executive Dr Ralf Speth said: "Jaguar Land Rover is a key player within the UK economy.
"We are the largest investor in automotive research and development and engineering in this country and as today's announcement shows, we generate billions of pounds of economic activity here every year."
'Very welcome'
He added: "Alongside the 1,500 new jobs created in Halewood to support the launch of the new Evoque, Jaguar Land Rover is investing in advanced research, design and technical innovation with key strategic partners which together with today's £2bn of contract announcements will mean the creation of thousands more skilled jobs in the UK automotive supply chain.
"The billions being spent on Evoque is just the start, with 40 significant product actions coming over the next five years."
The announcement was welcomed by the union Unite.
Roger Maddison, national officer of Unite, said the new manufacturing jobs were "desperately needed".
He said: "Tata, the parent company of Jaguar Land Rover (JLR), are to be congratulated for their commitment to the UK.
"The workforce also deserves much credit for the role they played in helping the company weather the recession."
He said the government could not take credit for the investment, however, as it was secured under the last Labour government with a £2bn investment from the parent company Tata.
He said: "Nobody will be fooled about where the credit for today goes. It goes to JLR for investing in the UK and to a dedicated workforce producing a quality product."
More than 14,000 people applied for 1,500 new jobs at the Merseyside plant, with 8,000 of those in the first week of the posts being advertised.
The company said that it had positive pre-orders for the Evoque, which will sell from upwards of £30,000.