Joseph Cummins' killers are 'cowards' say family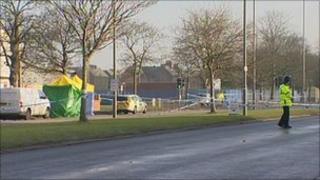 The family of a man who was shot in the back in Liverpool have branded those responsible for his death "cowards".
Joseph Cummins, 25, was shot repeatedly on Longmoor Lane, Fazakerley, on 20 January and died later in hospital.
His family described him as a "lovable rogue", who as a child had loved pets and had been given "the best of everything" and was "well cared for".
An 18-year-old man arrested in connection with his murder has been released on police bail.
'Behind bars'
A statement issued by his family said: "Joseph was a loveable rogue who cared for all his family and his close friends. He was a credit to have in your life.
"He was loved by the people who mattered and mattered to the people who loved him.
"Joseph adored animals and had lots of pets when he was growing up including rabbits, budgies, goldfish and even hamsters. Every animal he owned he loved.
Mr Cummins, a Liverpool football fan who attended matches with his father as a child, grew up in Harrismith Road, Fazakerley, close to where he was shot.
Police revealed that he had also been shot in the back in nearby Gribble Road in 2009, but no arrests were made and they are not linking the shootings.
The statement said: "We cannot believe he has gone. I would ask anyone with information about the cowards responsible for Joseph's death to come forward so they can be put behind bars where they belong.
"He loved all of the children in the family and always had time for them playing football with them and taking them out whenever he could. It is a shame that he will now never have a chance to have his own."