HMS Manchester arrives in Liverpool for farewell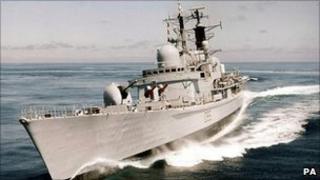 HMS Manchester has arrived in Liverpool for its final visit to the region before being decommissioned.
The Type 42 destroyer is affiliated to Manchester, but has berthed at Liverpool's cruise liner terminal as it is the closest it can get to the city.
Its crew will host a civic reception on Friday and march through Manchester on Saturday for their final freedom of the city parade.
The 30-year-old ship will be decommissioned later this month.
A Royal Navy spokesman said the decision to decommission was taken before the strategic defence and security review and was based on the ship's age.
The 5,200-tonne ship, which was used during the 1991 Gulf War, will be open to the public on Sunday from 1200 GMT to 1700 GMT.
A special ceremony will be performed on the ship on Friday at 1945 GMT, which the public will be able to watch from Princes Parade, Liverpool.
Commanding officer, Commander Rex Cox, said: "We are thoroughly looking forward to welcoming people from both the Merseyside area and our affiliated city of Manchester onboard, and are particularly honoured that we will be able to exercise our freedom of the city of Manchester on Saturday for the final time.
"This will be an extremely proud moment for us, though one tinged with a small amount of sadness too."
Anti-drug operations
Manchester Lord Mayor Mark Hackett, who travelled onboard from Portsmouth, said: "It is with admiration that I say farewell to the ship's crew.
"It is important to remember not only the sterling work the current crew have performed but also the achievements of all of HMS Manchester's past crew members.
"I speak for the city when I say we are all very proud of our association with HMS Manchester."
The ship recently returned from a seven-month deployment to the Caribbean, where its crew conducted anti-drug operations and helped in the aftermath of hurricanes in the region.