Missing Liverpool cat home after seven-year absence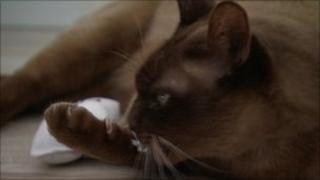 A missing cat has finally returned to its home in Liverpool seven years after disappearing.
Owner Carol Rogers, from West Derby, put up posters, contacted local vets and offered a £250 reward when her kitten Billy went missing in 2004.
But she had almost forgotten who Billy was when a vet contacted her last week to say the cat had been found by a woman who noticed he had a chip.
"It was just lovely - it was like he'd never been away," said Mrs Rogers.
Billy was taken into Park Veterinary Surgery in West Derby by a woman who looks after, and re-homes, stray cats.
'Billy's back'
Despite her extensive efforts to track down the pedigree cat, Mrs Rogers told the BBC she was still taken aback by the vet's call.
"I'm thinking 'Billy, Billy, Billy - who's Billy?' I said I haven't got an animal called Billy. I've got three other animals, but they're not called Billy. So she said 'No, Billy, Mrs Rogers - who you lost seven years ago.'
"I rang my husband at work - he works until 11 o'clock at night - and I said 'Billy's back.' And he said 'Who's Billy?' And I said 'Billy, the cat.'
"My husband couldn't quite believe it until he came home and saw him - it was lovely."
Mrs Rogers does not know where Billy has been, but is convinced someone had been looking after him because of his good health.