Wirral hospitals' visitor ban after norovirus outbreak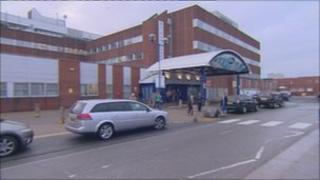 Visiting has been suspended at two Wirral hospitals following an outbreak of norovirus, known as the winter vomiting bug.
Health officials have imposed the ban at Arrowe Park and Clatterbridge until at least 1700 GMT on Monday.
It follows an outbreak in the community which has affected some patients, said Wirral University Teaching Hospitals NHS Trust.
Visiting at Clatterbridge Centre for Oncology and Springview is unaffected.
Tina Long, director of nursing and midwifery, said: "Norovirus is highly infectious and so it is important that we protect patients by doing everything possible to prevent the spread of infection.
"When our hospitals were recently affected by the flu outbreak in the community we took the decision to temporarily suspend visiting and this action proved to be extremely effective.
"We received a great deal of support from the public who recognised that the decision was made for the wellbeing of patients and we would like to ask for their continued support in this current situation."
Relatives of critically ill patients and children will be allowed in at the ward manager's discretion.