Sefton councillors agree on £16m savings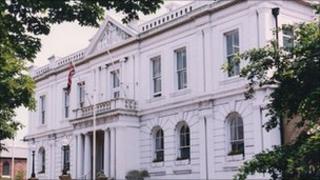 Sefton Council has agreed on a further £16m of cuts which will be made in the coming year, taking the total amount of savings being made to £43m.
The council needs to save £68m over the next three years following cuts to its funding from central government.
At a full council meeting on Thursday, councillors decided to consider a possible 5% pay cut for all staff.
It also agreed to postpone a decision to close seven SureStart children's centres for a review to take place.
Campaigners opposed to closing the centres marched through the town earlier this week, before handing a petition to the council asking them to reconsider.
A crowd of several hundred protesters gathered outside Southport Town Hall on Thursday evening and inside the public gallery was full, mainly with supporters of the Sure Start Centres.
'Tough times'
Council leader Tony Roberston said he understood public anger about the cuts.
"These are very tough times, I happen to be a public servant myself so I realise how tough they are.
"My job could be under threat anyway, so I'm not living in a different world," he said.
"I do realise that we are all being pushed a very long way because of the financial situation of the country.
"I have spoken to and been lobbied by a number of people throughout the borough who have disabled people in their families that benefit from the services that the council provide.
"We are going to try and find solutions and I hope that we can find a solution whereby the facilities that are put on for youngsters with disabilities will be continued, that is my objective."
The cabinet will meet again in February to agree the detail of the savings.
The council is also encouraging local residents to come forward with their ideas about how savings could be made.