Government 'cannot stop closure of Burton's Foods'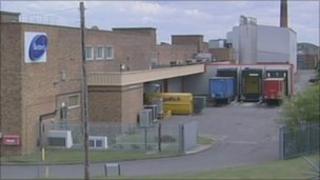 The government cannot intervene in plans to close a biscuit factory in Wirral, business and enterprise minister Mark Prisk has said.
The closure of Burton's Foods in Moreton, which makes Jammie Dodgers and Wagon Wheels, would result in the loss of 342 production jobs.
Speaking in the House of Commons on Wednesday, Wallasey MP Angela Eagle urged the government to help workers.
Mr Prisk said ministers could not stop the company moving elsewhere.
He said local job centres would offer support to those being made redundant.
Labour MP Ms Eagle said: "It is not uncommon for entire families to work in the factory - sometimes more than one generation on the production line at the same time.
"If this closure were to go ahead it would be devastating for many of my constituents. It would decimate the local economy, just at a time when it is already fragile.
"I don't think the human costs can be over estimated."
The firm said the closure was a necessary part of its strategy to improve its supply chain and the proposed job cuts were "deeply regrettable".
The firm also plans to invest £7m at its manufacturing sites in Edinburgh and Llantarnam, South Wales.