Commons discuss Burton's Moreton biscuit factory closure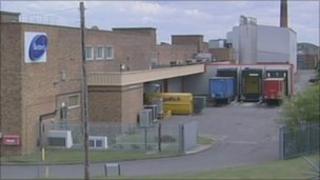 The fight to try to save jobs at a biscuit factory in Wirral will be discussed in the House of Commons.
Wallasey Labour MP Angela Eagle called for the debate on the planned closure of the Burton's Foods factory in Moreton, with the loss of 342 jobs.
The company, which makes Jammie Dodgers and Wagon Wheels, intends to start cutting jobs from May and close the entire site by the end of the year.
Ms Eagle said staff would not roll over without a fight.
Last week the MP applied successfully for an adjournment debate, which is taking place on Wednesday.
'Expose flaws'
She said: "This is a dire situation we are in at the moment, we currently have 17 applicants for every vacancy within Wallasey and this is only going to get higher after the cuts enforced by the Tory-led council.
"I met with staff from Burton's foods factory in Moreton last week and we had what I hope will be the first discussion of many aimed at saving the jobs on this site.
"We will be arguing that there are genuine alternatives to closure. We shall also expose the flaws in the company's plan - for example, due to bad weather before Christmas the Edinburgh operation was shut down completely for two weeks. Its clear to see that the staff at Burton's will not roll over."
Burton's has said that the closure is a necessary part of its strategy to improve its supply chain and that the proposed job losses are "deeply regrettable".
As well as closing the Moreton factory, it intends to invest £7m at its manufacturing sites in Edinburgh and Llantarnam, South Wales.