Paraplegic man's 5,000-mile trip home from Dhaka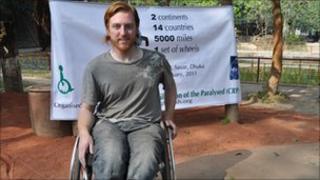 A paraplegic man from Merseyside, who has been volunteering in Bangladesh, is travelling home overland to raise funds for charity.
Wheelchair user Peter Donnelly, 24, will use buses, trains and ferries to travel 5,000 miles back to St Helens.
He is raising money for the Centre for the Rehabilitation of the Paralysed (CRP) on Dhaka's outskirts where he has volunteered for the past four months.
Mr Donnelly broke his back at the age of 19, in a motorcycle accident.
The CRP treats people with disabilities and assists them in their rehabilitation.
'Amazing job'
Mr Donnelly is aiming to travel across 14 countries including Nepal, China, Russia, Germany and France before reaching the UK.
He began his journey on Sunday night by catching a bus to Siliguri in the Indian state of West Bengal.
Mr Donnelly is aware that the journey will be difficult, as many of the countries he will travel through do not have enough facilities for people with disabilities.
He said: "The first reason I'm doing this is that I am raising money for the CRP, which does an amazing job in one of the poorest countries in the world.
"Secondly, I'm doing it to raise awareness of what can be achieved when using a wheelchair and how everything in your path might not be perfect but it is still possible.
"When people with a disability are seen more in public then others will understand their difficulties and adjust to them."
'Changed my mind'
Mr Donnelly was studying for a business and management degree at St Helens College, when he became paralysed.
He said: "Soon after the accident, I thought my life was over. I was not sure what this new life could offer me.
"I had stereotypes in my head about people in wheelchairs.
"Somewhere along the way I changed my mind. I don't let this stop me from doing anything and I actively go out looking for new challenges like sky-diving, scuba-diving, bungee-jumping and triathlons - I've done them all."
During the journey he aims to speak to wheelchair users in different countries about his experiences.