Merseyside faces longer economic recovery, says report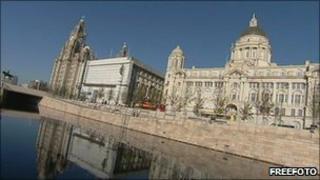 People in two parts of Merseyside are unlikely to feel the benefits of economic recovery until some time after the rest of the UK, a report has found.
Research group Centre for Cities named Birkenhead and Liverpool as areas most vulnerable to spending cuts and said they might need government support.
It cites the relatively high number of public sector jobs and benefit claimants among its evidence.
Wirral Council said it was working hard to attract more private investment.
The Centre for Cities study found that more than one in three jobs in private companies were provided in 11 cities, including Liverpool and Manchester.
However, the cities "vulnerable" to spending cuts would need extra financial support and a "realistic" local plan of action, the group said.
Birkenhead was identified as the most vulnerable area of the country, followed by Liverpool, Newport, Swansea and Sunderland.
Chief executive Alexandra Jones said: "During 2011, the UK cities most dependent on the public sector, and which have seen slower economic growth over the last decade, will find it more difficult to rebalance towards the private sector.
"These cities will need realistic plans of action to ride out the spending cuts and create jobs - but they will also need additional financial support from central government."
Council initiatives
In a statement, Wirral Council's member for regeneration, councillor Andrew Hobson, said the authority had a number of initiatives to attract business - and highlighted the £4.5bn Wirral Waters scheme as a potential creator of jobs.
"We are working hard to support businesses in Wirral and to attract more private sector investment into areas like Birkenhead so that we can re-balance our economy and be less dependent on public sector jobs," said Mr Hobson.
"Indeed in the last 18 months we have helped create over 300 jobs for young people at a time when youth unemployment is at an all time high.
"We will continue to do all we can to support our existing businesses whilst also attracting new investment through our developing links with China and the marketing of the £4.5bn Wirral Waters site, which will create over 20,000 jobs at the heart of our most deprived communities."
Councillor Joe Anderson, leader of Liverpool City Council, said the report highlighted the "huge disadvantages" placed on the city by what he described as "disproportionate spending cuts".
"It's crucial that we reduce the city's reliance on the public sector," said Mr Anderson, who added that the city was making "great strides" in forging more private sector links.
"Our presence at Shanghai World Expo and the establishment of The Liverpool Embassy in London are two fantastic examples of how we are doing things differently, and drawing on the city's strengths to attract vital private investment," he said.
"At the same time, we will continue to lobby the government over these unfair cuts. We are asking them to spread the reduction in spending across the life of this Parliament, to give us the chance to help ourselves."