Merseyside Police 'harder hit' by cuts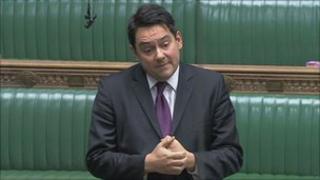 A Liverpool MP has claimed Merseyside Police will be hit harder by government spending cuts than other forces.
Merseyside Police has said it needs to save £66m from its budget over the four years, following the spending review.
Speaking in the Commons, West Derby MP Stephen Twigg said the government provided 80% of Merseyside Police's funding, compared to 50% of Surrey's.
But the government claimed Merseyside has more officers per person than most other areas of the UK.
Mr Twigg asked the leader of the House of Commons, Sir George Young, for a debate on the differential impact of government cuts on police spending.
"The government cuts hit Merseyside much harder than they hit Surrey - how can that be fair?" he asked.
Sir George replied: "I believe I am right in saying that proportion to population Merseyside has more officers than almost any other part of the country."
He said there would be a debate on the police grant and the revenue support grant next month.
Merseyside Police is currently looking at how it can save money but its Chief Constable, Jon Murphy, has said it was doing everything it could to safeguard front-line policing.