Convicted murderer Eddie Gilfoyle 'will never be free'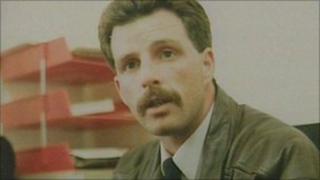 Convicted murderer Eddie Gilfoyle who was released on licence last month has said he will not consider himself to be free unless his conviction is quashed.
Gilfoyle was jailed for life for the murder of his wife Paula, in Wirral on Merseyside, in 1992.
The 49-year-old, who maintained his innocence during his 18 years in jail, was barred from speaking to the media as a condition of his release.
However, the Parole Board ended the ban on Thursday.
It is understood the board concluded the ban was unlawful after Gilfoyle's lawyers asked it to reconsider.
In a statement, Gilfoyle said: "I had planned to come out of prison quietly but the media restrictions of my licence led instead to a great deal of media attention.
"I have asserted my innocence since the day I was arrested in 1992 and it did seem unbelievable that I should suddenly be stopped from doing so on my release.
"I am obviously pleased to be released from prison but I will never consider myself to be free until the day my conviction is quashed."
Paula Gilfoyle, 32, was found hanged at the couple's home, in Upton, in 1992. She was pregnant at the time.
Prosecutors said her husband had fooled her into writing a suicide note before tying a noose around her neck.
Gilfoyle has had two appeals against his conviction rejected but has lodged a third bid with the Criminal Cases Review Commission (CCRC).
He said he was looking forward to the CCRC "making progress with all the further evidence that is already before them to get my case back to the Court of Appeal".
The Parole Board's ban had also prevented his family and lawyers talking about the case.
Gilfoyle's lawyers said it had denied him of "the right to discuss his innocence".
"We are pleased that the Parole Board have seen sense and reversed what was clearly an unlawful decision", they added.