Mersey Gateway Project critical report rejected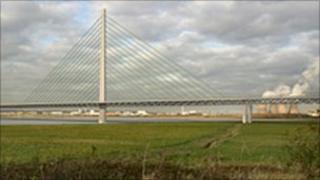 A report that claims the Mersey Gateway Project will be more expensive than its estimated £600m cost has been rejected by its planners.
Campaign for Better Transport and the North West Transport Activists' Roundtable report said planned toll charges would not cover its cost.
But the project's director said the report was "fundamentally flawed".
The report advised a due diligence review when bids are submitted to run the bridge.
'Financial risks'
A spokesman for the Campaign for Better Transport said: "We think their findings ought to concern anyone interested in safeguarding value for public money.
"There is good evidence that other local transport investment offers better value for money in terms of dealing with transport problems."
Steve Nicholson, Mersey Gateway Project Director, said: "This report is fundamentally flawed.
"It is regrettable that the authors of the report did not check their assumptions with Mersey Gateway officials before drawing conclusions.
"The report at best does not add anything to the understanding of the financial risks associated with the Project and at worst it is misleading and a deliberate attempt to undermine the delivery of a project that benefits from widespread support across the region and in Government."
A full funding package is expected to be agreed by the Department for Transport in the next few weeks.