Convicted killer Eddie Gilfoyle's gagging order lifted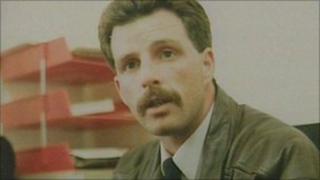 A gagging order placed on convicted murderer Eddie Gilfoyle upon his release from jail has been lifted.
Gilfoyle was freed on licence last month after serving 18 years of a life sentence for the murder of his wife Paula, in Wirral, Merseyside, in 1992.
The 49-year-old - who has always maintained his innocence - was barred from speaking to the media as a condition of his release.
But the Parole Board had now agreed to end the ban.
Gilfoyle's legal team had asked the board to reconsider the restrictions, arguing that they were unlawful and would be challenged in the courts.
It is understood that after taking its own legal advice the Parole Board concluded that the conditions were not lawful, said the BBC's Home Affairs correspondent Danny Shaw.
Although campaigners said they had also been prevented from speaking out, the ban did not apply to Gilfoyle's lawyers or relatives.
A board spokesman said: "Any licence conditions that the Parole Board imposes are for the sole purpose of safely managing the risk that the offender poses in the community and preventing re-offending.
"Such conditions can legally restrict only the actions of the individual offender and not the actions of any third parties."
Third appeal bid
The spokesman said it would be open to any offender serving a sentence in the community on life licence to challenge a particular licence condition.
He said: "Such a challenge would be considered by the Board on a case-by-case basis."
Paula Gilfoyle, who was pregnant at the time, was found hanged at the couple's home in Upton in 1992.
Prosecutors claimed her husband had fooled the 32-year-old into writing a suicide note before tying a noose around her neck.
Gilfoyle has had two appeals against his conviction rejected but has lodged a third bid with the Criminal Cases Review Commission (CCRC).