Liverpool project aims for women's jail alternative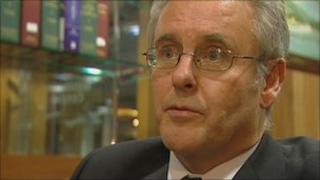 A project which aims to turn around the lives of women offenders as an alternative to sending them to prison is under way in Liverpool.
Women sent to the project will be offered services to help them address issues affecting their lives, such as alcohol, drugs or employment.
It is hoped the scheme will help prevent the family breakdown that often follows the imprisonment of a woman.
The project is backed by the Ministry of Justice and Probation Service.
Based at the Community Justice Centre in Kirkdale, the Liverpool Women's Turnaround Project is being run by social care charity PSS.
Alternative for sentencing
According to the charity, 66% of women prisoners have children and 95% of those children do not remain in the family home once their mother is sentenced.
Given that 70% of women are serving a sentence of less than 12 months, authorities believe community-based support is more likely to stop them reoffending.
Anne Pakula, of Merseyside Probation Trust, said: "Being imprisoned can have a devastating, long-term effect on women and their families.
"The small number of women's prisons means that many women serve their sentence a long way from their homes, making family contact difficult.
"This service provides a real alternative for sentencers who want assurance that women will complete their court orders and receive the help and support necessary to turn their lives around."
Targeted help for women taking part will be given by partners such as the Citizens Advice Bureaux, drug and alcohol agencies, training and employment agencies, mental health services, counselling and accommodation providers.
Liverpool-based judge David Fletcher welcomed the project, which gives him an alternative sentencing option.
"In many of these cases the children of these women who get sent to prison are separated, have to go into care, live with relatives and quite often they then may head in the wrong direction and that of course is storing up problems for us in the future."