Government reviews Liverpool's second cruise centre bid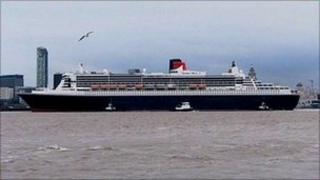 The government is to take a new look at Liverpool's attempt to become a base for cruise liners.
Transport Minister Mike Penning met council leaders in the city on Thursday and said the government would look at the issue afresh.
The idea was previously rejected on the grounds it would create unfair competition to other ports.
Cruise ships can call at Liverpool but cannot start or end their journey in the port.
New plans have been submitted for a terminal at the Pier Head to allow ships to start and finish their journeys at the port.
Council leader Councillor Joe Anderson (Labour) said: "It's very encouraging that Mr Penning has agreed to review the restrictions on cruise turnarounds.
"We have laid strong foundations to move forward on this issue and I am very optimistic of a positive outcome."
Mr Penning said he was pleased to meet the council, adding: "This is a complex issue and I have agreed that my department will work with the council to try and identify a solution which maintains a level playing field across the UK cruise industry."