Flagship Huyton £25m school 'may shut'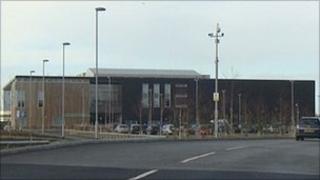 A £25m flagship school which opened on Merseyside less than two years ago could be closed.
Christ the King Centre for Learning in Huyton opened in 2009 under the government's Building Schools For the Future scheme.
It was said to be a new kind of school with open-plan classrooms and new ways of teaching.
Labour-run Knowsley Council said it was considering closure due to falling pupil numbers and financial pressures.
The joint Roman Catholic-Church of England school has a capacity for 900 pupils aged between 11 and 16 but currently has just over 500.
But Liberal Democrat opposition leader Councillor Ian Smith, who said the closure of the school was a "total disaster", claimed that Catholic parents had sent their children to Roman Catholic schools in neighbouring boroughs.
"I have been at public meetings where parents have made it clear the specifically wanted a Roman Catholic education for their children," he said.
Christ The King replaced the St Edmund of Canterbury Secondary School and was billed as a centre which could be used by the whole community for learning, sport, cultural and leisure activities.
It was the first time the Church of England had been involved in secondary education in Knowsley, and promised students a "world-class education".
The school uses open "learning centres" rather than traditional classrooms and boasts a fitness suite with state-of-the-art sports equipment.
Damian Allen, executive director for children and family services, said it was "an immensely tough decision for us to take" but was unavoidable.
Public meeting
"We have this week written to parents to inform them of the situation and invite them to a meeting to discuss this further," he said.
"We are working closely with the school, archdiocese and diocese to manage this situation and provide all the support and guidance we can to pupils, parents and staff.
"Our commitment remains to provide the best possible educational experience for young people in Knowsley.
"This is in the very early stages of the consultation and therefore we do not have any further details or information to provide at this stage."
A public meeting is due to take place at the school on Monday evening.