Angela Eagle calls for Burton's biscuit factory debate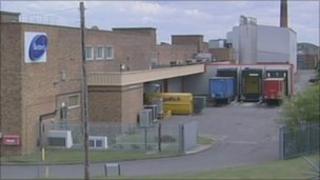 A Merseyside MP has called for a Commons debate on the closure of the Burton's Foods factory.
Wallasey Labour MP Angela Eagle said the planned closure of the firm's Wirral factory with the loss of 342 jobs required "urgent consideration".
The company, which makes Jammie Dodgers and Wagon Wheels, plans to start closing down the factory in March.
Burton's said it would invest £7m at its sites in Edinburgh and Llantarnam.
Ms Eagle's application for an adjournment debate was made under a standing order which allows Parliament to consider matters that require urgent consideration.
'Constituents betrayed'
Ms Eagle said: "The biscuit factory in Moreton is the largest private sector employer in my constituency.
"For well over half a century this factory has provided employment and security for many of my constituents living in Moreton and Leasowe.
"Entire families work there, often more than one generation on the production line."
Speaking in Parliament, Ms Eagle said: "It is an understatement if I were to say to the House today that my constituents feel betrayed by this decision.
"I entirely associate myself with their emotions because I share them."
Burton's has said that the closure is a necessary part of its strategy to improve its supply chain and that the proposed job losses are "deeply regrettable".