Liverpool Easyjet passengers stranded in Paris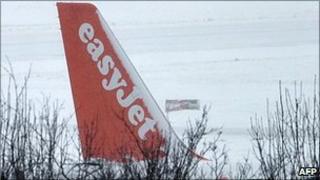 A group of Easyjet passengers have spent four days stranded in Paris after a series of flight cancellations.
Easyjet flight 7046 to Liverpool was cancelled on Friday after the plane due to take them was trapped in Spain by an unofficial air traffic control strike.
Subsequent flights on Saturday and Sunday were also abandoned, leaving passengers angry and frustrated.
Passengers said they had been "treated like animals". Easyjet said its later flights were hit by the weather.
A spokeswoman for the company said the passengers should be flying back to Liverpool on Tuesday evening.
'It's unbelievable'
"We're doing everything we can to look after passengers," said a spokeswoman.
"Where we haven't been able to get them home as quickly as we'd like we've put them up in hotels and given them food vouchers."
After the initial problem on Friday, the next available flight due out of Charles de Gaulle Airport on Saturday was fully booked.
On Sunday and Monday, the scheduled flights were cancelled as a result of the winter weather conditions affecting airports across Europe.
But passengers stuck in France said they had little official information from the company and had spent the weekend sitting around the airport.
Easyjet put the passengers up in a hotel each night but the stranded customers had to check out each morning before checking in again when their flight was cancelled.
One man from Liverpool, called Francis, was due to fly home on Friday after celebrating his 21st birthday in the French capital.
"We feel like animals getting shipped one place to another, wherever we go staff are so rude," he said.
"There are people here with children and everything and we're getting kicked out [of the hotel] to sit around in an airport.
"There are no Easyjet staff in the airport... it's so unorganised it's unbelievable."
Another passenger, Nadya Thomas, from Wallasey, was due to fly home with her four-year-old daughter.
She told the BBC she would never fly with the company again.