Mersey River Festival returns to Liverpool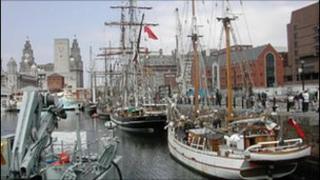 One of the UK's biggest maritime festivals will be held in Liverpool next year - for the first time since 2005.
The Tall Ships and the liners Queen Elizabeth and Queen Mary II will dock at the city's famous ports in September as part of the Mersey River Festival.
Liverpool's historic waterfront will come alive with aerobatic displays, street theatre and musicians.
Council leader, Joe Anderson, said it was a "vital boost" for the economy.
The last Mersey River Festival six years ago attracted more than 300,000 people.
'Majestic waterfront'
Mr Anderson hopes that by combining it with the already established On The Waterfront programme, millions of pounds will be generated for local businesses, shops and restaurants.
He added: "The Mersey River Festival was always hugely popular, and attracted hundreds of thousands of people every year.
"That's why I made it a priority to bring it back.
"Since the last festival took place, our iconic waterfront has been transformed and is now looking more majestic than ever and I'll be proud to showcase it to visitors from all over the world."