Liverpool's dismay at England 2018 World Cup bid defeat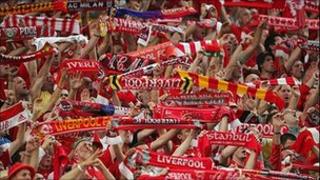 Liverpool's World Cup bid team were consoling each other in Anfield's famous Kop after England failed in its bid to host the World Cup in 2018.
1966 World Cup winner Roger Hunt and the rest of the Liverpool bid team had been waiting in the stand for the news.
Former Liverpool winger, Ian Callaghan, who was also part of England's triumphant 1966 World Cup squad, said: "We had so much to offer."
Russia won the right to host the tournament.
Fifa president Sepp Blatter made the announcement in Zurich to widespread cheers from Russia's bid team. He then announced Qatar would host the 2022 World Cup.
In Liverpool the mood was grim.
Mr Callaghan added: "We were so geared up for winning we were obviously very disappointed when the result was read out.
"It would have been a fantastic thing for Liverpool, having teams from all over the world play here.
"I was looking forward to actually watching the World Cup on England, last time it was here I was obviously part of the team.
"Liverpool is a unique place and the city had and still does have a lot to offer."
The city council's cabinet member for culture and sport, Councillor Wendy Simon, said: "Many of the ideas set out in the bid, especially using football and music as a catalyst for economic growth and community development, are hugely relevant, nor least in the community of North Liverpool.
"Naturally we are sad about the outcome.
"But we also congratulate the winners, and we'll just need to make sure that an England team full of young scousers brings the World Cup back in 2018."