Kidnapped worker from Birkenhead to return to oil rigs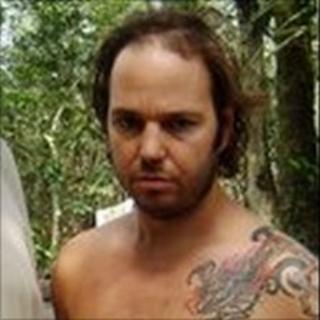 A British oil worker who was kidnapped and held hostage for nine months in Nigeria is planning to return to work on rigs next year.
Matthew Maguire, 36, of Merseyside, was taken by militants while travelling to an oil platform in September 2008.
He believed he was going to be killed on several occasions before he was eventually released in June 2009.
He now plans to start working on rigs in the Middle East to raise money to move with his family to Australia.
Mr Maguire, of Birkenhead, said his desire to move had prompted him to take work as an inspection diver in the oil fields off the Nigerian coast.
"I didn't realise how dangerous it was," he said.
"I knew kidnappings were going on but I thought it would never happen to me."
'Lucky to get home'
Mr Maguire has a daughter, Ellie, 12, and two sons, Charlie, 10, and Matthew, four.
Since his release he and his partner Emma have had another baby, Bobby, who is four months old.
Mr Maguire was about to start a second stint off the Nigerian coast when he and 26 others were kidnapped by militants who sneaked onto their ship when it was moored in Port Harcourt.
Most of the group were released soon afterwards but Mr Maguire and the ship's captain Robin Hughes were taken hostage.
They were held for months before being passed to local villagers.
Their health suffered as they were not well fed and the water was contaminated. Mr Maguire also developed an infected root canal.
Mr Hughes, originally from St Margaret's Bay in Kent, was released in June 2009.
Mr Maguire said he plans to write a book which will describe his ordeal in detail. He said: "They were going to kill me a few times. They don't play games out there.
"I was lucky to get home."
He said he thought about his family to get through the ordeal but "it was bad because I was thinking if I don't go home my kids will not have a dad".
After his release, he spent two months travelling with his family around Western Australia - where his parents now live.
"I was getting nuisance phone calls. The press were calling me. I didn't want to speak to them. I wanted to get away," he said.
When he finally returned to his home in Birkenhead, he had to start trying to adjust to normal life.
He struggled to sleep indoors, having spent so much time in the jungle.
And he had to try to explain to his children why he had disappeared from their lives for nine months.
'Different perspective'
Mr Maguire has not yet returned to work, and has refused to return to Nigeria.
"You can't come out of the jungle and go straight back to work," he said.
"I think I am ready now."
He said his months in the jungle have given him "a different perspective".
"I do think how lucky I am, having seen how some people live. Some people have nothing."
He looks back on the experience with mixed feelings.
"I'm angry because they (the kidnappers) kept me away from my family. I nearly didn't get home," he said.
"But I also feel sorry for them.
"I don't think they would be fighting if they had anything."
The Niger Delta militants have been fighting against the Nigerian government and the oil companies working in the region, who they accuse of despoiling their land and stealing their wealth.
Mr Maguire has been retraining as an electrician, in the past year, to help with his quest to move his family to Australia.
"I am looking forward to next year," he said.
"I reckon getting back to work will make me feel more normal."
However, he will be more careful about where he goes to work, he said.
"I was naive when I went to Nigeria. I didn't look into what was going on.
"I found out the hard way how bad it was."