Memorial service for dog attack boy John Paul Massey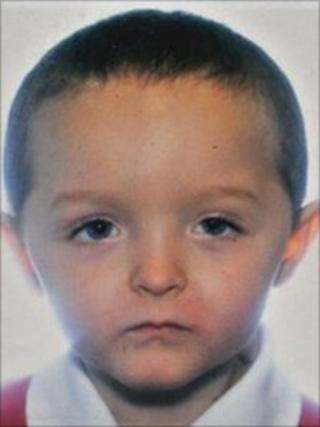 A memorial service has been held to mark a year since a four-year-old boy was savaged to death by his uncle's dog.
John Paul Massey was killed by the pitbull at his grandmother's home in Wavertree, Liverpool last November.
His mother, Angela McGlynn, attended the ceremony at St Anne's RC church earlier.
The young boy's uncle, Christian Foulkes, was jailed for four months for owning and breeding a dangerous dog.
As the schoolboy was attacked by the dog, his grandmother, Helen Foulkes, 63, sought to save him but without success. She was treated for minor injuries in hospital.
Shortly after his death - the second fatal dog attack in Merseyside in less than three years - there was a call for laws on dangerous dogs to be tightened and harsher punishments to be served to those who break them.
The force admitted it did not take action after receiving a report of dog breeding at the house where John Paul died.
An investigation by the Independent Police Complaints Commission into Merseyside Police has finished but the findings are yet to be released.
Speaking to the BBC in April, his mother, Ms McGlynn paid tribute to her son calling him a "proper little chatterbox".
"He was funny, he was mischievous and he was always up to something, he had his own little sayings.
"He was amazing, he was very demanding, people would have to stop and talk to him no matter where you went."
'Could turn'
She called for new laws that would ensure dogs were muzzled when playing with children under the age of 12.
"Your pet dog could just turn and I don't want anyone to go through what we have gone through."
She said the dog had played with children on numerous occasions without any problems.
"But nobody knows what a dog is thinking, no-one knows what's going in their head, you have to be careful."
The Dangerous Dogs Act 1991 bans the breeding, sale or exchange of four kinds of dogs: pitbull terriers, Japanese tosas, the dogo Argentinos and the fila brasileiros.
Owners can be imprisoned for a maximum of two years if their dog injures someone.