Commons tribute to Liverpool's Blitz victims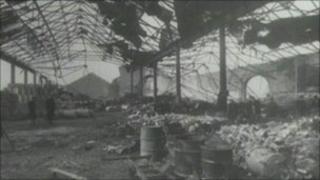 A Liverpool MP is paying tribute to the 166 people killed in the Blitz 70 years ago this week.
They were killed when an underground shelter on Durning Road in Edge Hill was hit, crushing many of the 300 people inside.
Labour MP for Liverpool Walton, Steve Rotheram, has tabled a Commons motion praising the sacrifices of the people of Merseyside during World War II.
He said Liverpool maintained a "vital lifeline" with the United States.
Mr Rotheram said in the motion that the lifeline was "crucial" in the ultimate victory against the Germans.
The motion said: "That this house... acknowledges that this obviously made Liverpool Docks a major target for the Luftwaffe, and that Liverpool was the second most bombed city after London.
"Further notes that on the night of 29 November 1940 the biggest single tragedy to befall the city occurred when there was a direct hit on the large underground shelter in Durning Road, Edge Hill, crushing many of its 300 occupants and resulting in the deaths of 166 people with many more badly injured.
"Further notes the sacrifices of the people of Merseyside during this period; and recognises the strategic importance of the city to Britain's ultimate victory."
A memorial plaque dedicated to those who lost their lives at the Durning Road shelter was re-dedicated in the grounds of Kensington Community Primary School on Sunday.