Approval for £4.5bn Wirral waterfront regeneration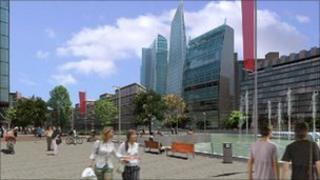 Plans for a £4.5bn transformation of the Wirral waterfront have cleared the final planning hurdle after being given government approval.
Wirral Waters will include several landmark high rise-buildings, green spaces and 13,000 homes on land around the borough's docklands.
The proposed development is so large it had to be scrutinised by the Department for Communities and Local Government.
But Wirral Council has been told it will not be called in for review.
With no public inquiry and outline planning approval already given in August, it means work can start on the land at Wallasey and Birkenhead Docks ahead of its transformation over the next decade.
Developer Peel Holdings previously said the development would create tens of thousands of jobs during construction and more when completed.
The firm is also planning a £5.5bn Liverpool Waters scheme on the opposite banks of the Mersey.
'Landmark day'
Council leader Jeff Green said: "I am delighted the government has demonstrated its trust in allowing local people to make the decision and will not call in the Wirral Waters plan for national review.
"This is a £4.5bn project which will create many thousands of jobs over 10 to 15 years.
"It is a landmark day for Wirral and is tremendous news."
Mr Green said Peel Holdings had already spent a lot of time in China promoting both schemes to potential investors, including at the 2010 World Expo in Shanghai.
"Now we have full outline planning we can start marketing the plans to other potential investors," Mr Green added.
"There was real interest shown in China in terms of Wirral Waters and Liverpool Waters. We need to now get cracking and start seeing these jobs created."