Liverpool air raid shelter bomb victims remembered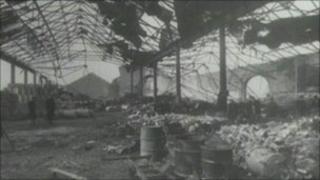 A service has taken place in Liverpool honouring victims of World War II's "worst" civilian incident.
More than 160 people were killed when a bomb hit Junior Technical School on Durning Road, Edge Hill, as people sheltered 70 years ago.
A memorial plaque dedicated to those who lost their lives was re-dedicated in the grounds of Kensington Community Primary School on Sunday.
The service was attended by the Lord Mayor of Liverpool, Hazel Williams.
Winston Churchill described the bomb which hit the Ernest Brown Junior Technical College, where more than 300 people were sheltering, as the "the worst single (civilian) incident of the war".
Buried alive
A direct hit by a parachute mine on the Durning Road shelter in Edge Hill brought the three-storey building crashing down on those who had taken refuge.
The bomb burst the school furnaces in the basement, fires raged and boiling water and steam scorched those who had not been buried alive.
The Reverend Mike Coates, who organised the service, said: "The bombing of Durning Road 70 years ago affected a great many people in the area."
The plate glass memorial plaque had been in St Cyprian's Church on Edge Lane until regeneration work began in the area.
Another memorial to the victims is in a small park in Old College Place, which includes a letter written by the Queen in the Millennium year.