Report finds no probation lapse over Venables images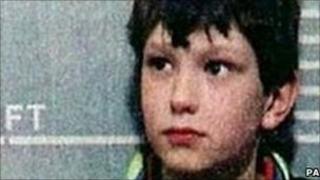 Probation officers could not have prevented Jon Venables from downloading images of child sex abuse, an inquiry has found.
Venables, 28, was jailed for two years in July after admitting a number of child pornography offences.
Sir David Omand, who examined how James Bulger's killer was supervised on his release, said he "alone was responsible" for his crimes.
However, he could have been given "more therapy", the report stated.
Sir David's inquiry concentrated on the supervision he received from Cheshire probation service, on his release in 2001.
It did find that Venables' drug and alcohol dependency could have been dealt with through increased mentoring and psychotherapy by the authorities but there was no indication that this would lead to downloading child pornography.
'Expensive and implausible'
Venables and Robert Thompson were released in 2001 after serving eight years for murdering two-year-old James and leaving his battered body by a railway line in Bootle, Merseyside.
They were given new identities on release but they remained on licence with a number of those in authority knowing their new names and addresses.
This, Sir David found, was a major contributor to Venables' chances of success and his failure to fit into everyday life.
He stated that the complete change of identity may have allowed him to "protect himself", but "he essentially had to live and hold a lie for the rest of his life".
This lie, he said, ensured his life would not be at risk, but "he was thus taught to lie and become good at it".
While Thompson's name did not make the headlines, Venables' life descended into drug-taking, drinking, fights and eventually downloading child pornography.
He was under supervision by a variety of authorities but still managed to build up a stash of indecent pictures.
He pleaded guilty to downloading 57 indecent pictures of children and distributing many of them between 2008 and 2010 after a probation officer found them on his home computer.
Commenting on the report, Harry Fletcher, assistant general secretary of the probation union Napo, said: "Supervision of Jon Venables was extremely difficult because of his notoriety and the need for tight security.
"The only way that his drinking, his trips to Liverpool and his accumulation of child pornography could have been prevented would have been through 24-hour surveillance, which would have been extremely expensive and implausible," Mr Fletcher said.
He said to keep him under constant surveillance would require 16 officers over a 24-hour period every day for 12 years - at a cost of £8,000 a week.
Justice Secretary Kenneth Clarke said: "Sir David has concluded that Jon Venables was properly supervised at an appropriate level with suitable frequency of contact, having regard to particular circumstances in this case.
Further arrests
"The review identifies a number of potential opportunities that might have opened up had circumstances been different and that might have made the further offences less likely, although Sir David is clear that this is a matter of judgement.
"He has identified learning points for the future management of this and any similar cases. Those learning points will be taken forward in the future."
In 2008, Venables was arrested on suspicion of affray and later in the year was cautioned for possession of cocaine, the report said.
The offences were considered by the then-Justice Secretary Jack Straw and there was no case for his recall to custody, Sir David said.
Diana Fulbrook, who leads on public protection for the Probation Chiefs Association, said some media reports had questioned why Venables was not recalled earlier.
"Very careful judgements are made when lifers are recalled to custody and are based on evidence that they present a risk to the life and limb of others," she said.
She added that professional assessments concluded that the decision to locate him near Merseyside - from where he was banned - was the "most supportive environment for him to resettle".