'New lease of life' promised for Runcorn Widnes bridge
By Julia Houston
BBC News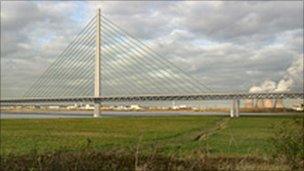 The arrival of a second bridge across the River Mersey will give the original a new lease of life, councillors say.
The Mersey Gateway project, to build a six-lane toll bridge between Runcorn and Widnes, was approved in October.
Once the new bridge is in place, the Silver Jubilee Bridge - which opened in 1961 - will be renovated and re-opened but with users also paying a toll.
Halton Borough Council said the bridge will be "brought back to its original use" as a local bridge for residents.
Traffic on the bridge is expected to be reduced to one lane each way, with cycle tracks and more room for pedestrians.
Council leader Rob Polhill said: "We will make it much easier for people to walk and cycle across the river by making it simpler to get on and off the bridge at each side, and I firmly believe that this will be a very positive thing as it will encourage more sustainable forms of transport throughout Halton."
He added that the Silver Jubilee Bridge was designed to carry 9,000 vehicles a day, and it now carries nearly 10 times that amount.
The only way the new bridge, which will cost £431m, could be funded was by tolling both bridges, he added, but it is hoped the first will be free for buses, cyclists and pedestrians and both will offer discount schemes for residents.
Although the charges are yet to be set, they are likely to match the Mersey Tunnels tolls - currently £1.40 for cars and up to £5.60 for lorries to cross between Liverpool and Wirral.
The Mersey Gateway has support across the region from all parties and many major business backers but the tolling issue has not been without opposition.
Chris Kelly set up a Facebook site called "Say no to the Runcorn-Widnes Bridge crossing tolls", which has more than 1,200 members.
He said: "In my view it would be a better, fairer option and, more importantly, affordable for the residents of Halton who need to use essential services and shops on either side of the river, for the Silver Jubilee Bridge at least to remain toll free."
Some local businesses have also voiced concern for the scheme. John Wall, who runs a drains maintenance firm in Widnes, said the tolls would have a "terrible impact" on the towns.
"If it's based on the Mersey Tunnels tolls, we have done a calculation and it's going to cost us in excess of £13,000 a year," he said.
"It'll also have an impact on community cohesion. You'll also have people having to pay to access services which they have already paid for, to get to the hospital for example.
"It'll have an impact on carers, hospital appointments and colleges as well.
"I do support an additional crossing, but not with tolling."
The National Alliance Against Tolls (NAAT), which opposes all tolls, said it would be detrimental to the area.
"The authorities have said the new scheme will benefit the local economy," a spokesman said.
"To us this seems like a cruel joke. Tolls will discourage businesses from setting up in the area, and discourage people from living, working or shopping in the area.
"What the authorities should do is to leave the existing bridge as it is, and if they build a new bridge then it should have only four lanes - and no tolls."
Among those supporting the scheme is Stobart Ports managing director and Widnes Vikings rugby league club chairman Steve O'Connor.
He said for the time saved crossing a new and less congested bridge would be well worth paying the toll.
"We, by some way, will be the single biggest user of that new bridge, we are currently crossing 1,500 or 1,700 journeys a day.
"The costs to us will be very expensive, but the payback is in the predictability of that journey.
"I feel the ends justify the means."
He added: "I think it fundamentally naïve to think that you will win by objecting to a tolled bridge - you will lose it.
"There has to be a pragmatic view of what you believe are all the pros and cons.
"If it helps us to predict those journeys and control the cost, then I think we can justify supporting a crossing that can be delivered."
Related Internet Links
The BBC is not responsible for the content of external sites.