Online poll votes Mersey dirtiest river in North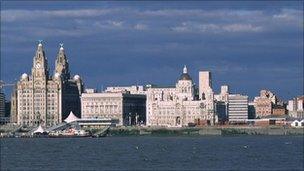 The River Mersey has been voted the dirtiest river in the North in an online poll organised by the RSPB, WWF and the Angling Trust.
The River Thames was voted the least clean in England and Wales with the River Wye coming top in the vote organised by the Our Rivers campaign.
Thousands of people voted online since the poll was launched in August.
More than £1bn has been spent in the past 25 years cleaning the river that runs from Stockport to Liverpool.
Ken Dooley from the Liverpool Angling Association said: "People look at the Mersey and see that it's dirty, but that's down to the tidal flow and the shape of the river.
"It contains billions of gallons of water in a high tide and when the tide sucks out it rips through and causes the dirty appearance of the water, but the quality has improved.
"You don't see any sewerage on the beach at Crosby anymore."
A spokesman for Our Rivers said: "The Environment Agency needs to bring together conservationists, anglers, farmers, landowners and other interested groups at a local level so that we can work in partnership to address the pressures threatening our rivers."
Related Internet Links
The BBC is not responsible for the content of external sites.