Gay pensioners 'fear' care homes in Liverpool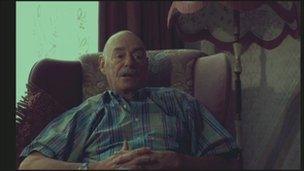 Campaigners on Merseyside have been given funding to look into the treatment of homosexual pensioners in care homes.
The Rainbow Lives project has been awarded £2,500 by Unlimited Engage to investigate how they are treated as they get older and require support.
Phil Johnson, 70, said many of his peers have died alone rather than face residential care.
Care provider, Anchor Housing, said strategies were in place in homes.
A spokesman for the company, which runs homes in Liverpool, said they recognised the "difficult" issues that many faced and meetings had been set up for gay and lesbian residents to air their fears.
Mr Johnson launched Silver Pride, an organisation for elderly people from the lesbian, gay, transgender and bisexual (LGBT) communities, two years ago.
He said in that time he has met many older gay people who have said they "fear" care homes because of their sexuality.
"We were all in our early 20s when the homosexual bill was passed in 1967.
"Now so many of us are coming up to the time in life when we we have to think about what we are doing for the rest of our days.
"We are are out of the closet now, we have learnt to live with our gayness.
"To be thrown into a different world where some people might still be homophobic is going to be one of the biggest problems we are going to confront now."
He said even though there is an overwhelming fear amongst some, he is yet to discover how many older gay people do feel uncomfortable when they go into care.
"This is why we have launched the investigation," he said.
Reverend Sister Maria Renate, who gives elderly people pastoral care across the North West, is also involved in the project.
She cited the example of an 80-year-old lesbian who she worked with for a long time, but who went on to commit suicide.
"She was in a care home and when it was discovered that her orientation was gay she was ostracized.
"She was made to feel very unwelcome and unwanted which led to a rapid decline in her health and wellbeing."
The Southport priest is aiming to introduce the "Navajo" scheme.
Each care home would be assessed on the steps they had taken to ensure those from the LGBT community felt comfortable in their new home and were not experiencing any discrimination from others.
Those that passed would be able to display a rainbow sticker in their windows.