HMP Altcourse dentist cheated NHS out of £300,000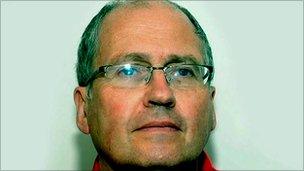 A dentist who tricked the NHS out of more than £300,000 by claiming twice for working in a private jail has been jailed for two and a half years.
John Hudson, 58, admitted two counts of dishonestly retaining wrongful credit from the NHS, and was sentenced at Liverpool Crown Court on Tuesday.
Hudson was paid by HMP Altcourse but also claimed £307,000 over two years.
Patients from his practice at Whitworth near Rochdale, wrote letters of support for him to the court.
Judge Graham Morrow QC said Hudson had been a pillar of the community in Whitworth, but was guilty of "calculated, blatant and persistent dishonesty" in taking money which should have gone for patient care.
The court heard that dental services at the privately-run jail near Liverpool were also privately run.
But Hudson exploited a weakness in the NHS system.
When the NHS changed the way it ran prison dental contracts in 2006 Hudson should have ticked a box which stated he was already being paid privately at Altcourse.
The prosecution said that when he did not tick the box he was fully aware of what he was doing - effectively getting paid twice for the same work.
The dentist approached Liverpool Primary Care Trust about a contract at the jail demanding £247,000 a year but accepting half that figure.
Despite lengthy negotiations Hudson never revealed his private payments.
The court heard he spent some of the money on holidays and education fees for his three children, but he is also more than £40,000 in debt and the NHS is suing him for £500,000.
Related Internet Links
The BBC is not responsible for the content of external sites.