Ricky Tomlinson donates £1m to Liverpool charity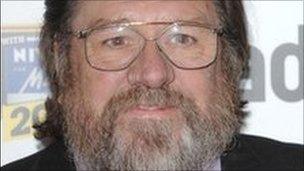 Actor Ricky Tomlinson has made a £1m donation to a children's charity in Liverpool.
Ronald McDonald House provides overnight accommodation for families of patients staying at Alder Hey Children's Hospital.
The donation has helped fund a new £1.5m unit for 15 families who need to stay for more than six months.
The Royle Family star declined to comment on the donation. However, the charity confirmed the gift.
Jan Thomas, director of Ronald McDonald House, said: "We are absolutely overwhelmed at Ricky's modesty and generosity.
"He has made such a difference to the families who need to stay at Ronald McDonald House (RMH)."
The charity currently provides accommodation for 69 parents and families.
The new flats will include a bedroom, kitchen, dining and lounge facilities and bathroom.
Ms Thomas said Mr Tomlinson had made the donation two years ago after visiting the charity and they had kept the secret ever since.
"His accountant rang us and said Eric Tomlinson wants to make a donation," she said.
"We didn't know who Eric Tomlinson was. Then we realised it was Ricky."
She added: "I asked him why he wanted to give the donation and he said, 'it's for the kids - they are the future'."
The remaining £500,000 was raised by family and friends of children who had stayed at RMH.
Mr Tomlinson laid a time capsule within the foundations of the 15 new apartments, on Monday.
Speaking then, he said: "I'm delighted to be here today to support Ronald McDonald House at Alder Hey.
"The house provides a vital lifeline to parents and families who come to hospital with their critically ill children and these new apartments will be able to give them some much needed support during an incredibly difficult time.
"I'm looking forward to seeing them completed in June 2011."
Related Internet Links
The BBC is not responsible for the content of external sites.