Widower from Southport leaves £1.4m to animal charities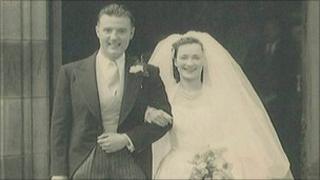 A widower who gave himself £20 a month in spending money has left £1.4m to three animal charities in his will.
Gordon Hardy and his wife Jean lived in sheltered accommodation in Southport on Merseyside. Mrs Hardy died in 2007 and her husband two years later, aged 83.
Mr Hardy specified he wanted his estate to be divided between the PDSA, Blue Cross and The Donkey Sanctuary.
Neighbours said they had no idea the couple were millionaires as they lived modestly and did not have a television.
When the house was cleared, there were no clothes in the wardrobes.
'Wonderfully generous'
Cathlyn Ainsworth, chairwoman of Southport Abbeyfield Society which runs the sheltered accommodation, said: "If they went out it was to the shops and then back again.
"They would walk the dog.
"I have no recollection of them going to any shows or anything like that, like our residents do.
"They were just so content."
Lyndsey McHale, of Brown Turner Ross solicitors which is overseeing the estate, said: "Mr Hardy was one of the sweetest people I have ever met, he was always very polite, a real gent.
"He would only ever ask for £20 each month from his estate. He used £9 of this to pay for his electricity.
"Mr Hardy has made a wonderfully generous donation to three very deserving charities.
"He did not live for grandeur and simply wanted those he felt deserving to benefit from his wealth."
She said she often asked him if he wanted to buy anything or go anywhere but he would reply: "what do I need to spend money on?".
Ms McHale said it was not clear how the couple had acquired their wealth or how they had chosen the charities.
All three charities said they were very grateful for the donations.