Rugby fan attacked in Warrington named in appeal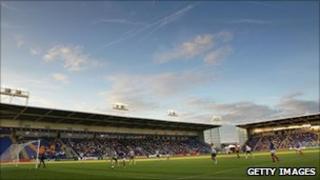 Police have named a rugby fan who is in a critical condition after being attacked outside a Cheshire stadium in a bid to get more information.
David Singer, 32, of Halifax, had gone to watch his town's team play Featherstone Rovers at Halliwell Jones in Warrington on Sunday.
As he returned to his coach in the car park at Dallam Lane, he was assaulted and left with serious head injuries.
Det Insp Steve Jones said: "The information we need is with the fans."
'Strong suspicions'
His mother and father, who had travelled to watch the match with him, did not witness the assault and were not aware of what happened to him until they were contacted later.
They are currently at his bedside at Walton Hospital.
Police believe there is a strong possibility that the person responsible for the attack may be a Featherstone supporter, and boarded a coach for supporters returning home.
Inquiries suggest several fans were behaving aggressively towards Halifax supporters in general shortly before the attack.
Detectives appealed to fans to come forward if they remember anyone behaving unusually.
They are keeping an open mind about how many people attacked Mr Singer.
Det Insp Jones added: "My appeal is to all rugby fans - it does not matter which club you support - to consider if you can help us identify who is responsible for the attack which has left a fellow rugby fan lying unconscious in a hospital bed.
"I know that there are people out there who will know who is responsible, or will have strong suspicions. It is vital that you call us. This is not what rugby is about."