Jeremy Hunt sorry over Hillsborough crowd claims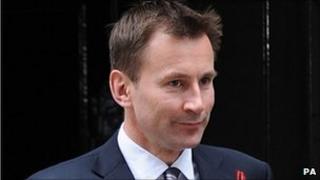 Culture Secretary Jeremy Hunt has apologised to relatives of Hillsborough disaster victims over comments he made.
Mr Hunt angered campaigners when he suggested that crowd unrest may have been to blame for the crush that killed 96 supporters in April 1989.
Relatives said he apologised after admitting he had not read the full report into the tragedy.
The Department for Culture, Media and Sport confirmed that Mr Hunt made a face-to-face apology to relatives.
His comments came out in June while praising the behaviour of England World Cup fans.
Lord Justice Taylor's official inquiry into the disaster published a report in 1990 which criticised senior police officers on duty at the match for a "failure of control" and recommended the introduction of all-seater stadiums.
Margaret Aspinall, chairman of the Hillsborough Family Support Group, had a face-to-face meeting with Mr Hunt and Home Secretary Theresa May.
'Full commitment'
She said: "He did say to me, 'I am very sorry I did not read the full Taylor report and I have read it now and I am really, really sorry for my comments'."
She said that his apology was accepted on the condition that he pushed for secret files on the tragedy to be made public.
A panel of seven people, including the Liverpool-born journalist Peter Sissons, has been set up with the support group's backing to try to establish more details of what happened at Hillsborough.
Mrs Aspinall, whose son James, 18, died at Hillsborough, said: "One of the questions we did ask [Mr Hunt] was if he was committed to the panel we have set up and we got his reassurances on that and we got those as well from Theresa May.
"I didn't accept his apology until the very end of the meeting until I knew we had his full commitment to funding as well as for the panel," she said.
Up to two million documents are expected to be examined by the panel during a task that could take up to two years to complete.