Tribute to Old Swan murder victim who 'lit up room'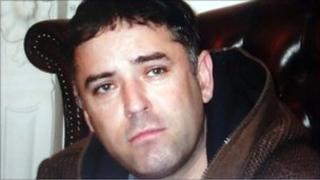 The family of a chef who was stabbed to death in Liverpool have paid tribute to a man who "lit up the room when he walked in".
Colin Hughes, 42, was found dead in the back yard of his home in Old Swan in the early hours of 21 September.
He was father to 12-year-old Ellie-Colina and due to marry his fiancee, Paula, in the coming months.
A second man was arrested on suspicion of murdering Mr Hughes on Monday morning, police said.
The 47-year-old is being questioned by detectives.
Another man, 24, who was arrested on Saturday has been released on police bail.
Mr Hughes' mother, Margaret, said his family was devastated by his death.
'Soup for pensioners'
She said: "Colin had a lot to look forward to, he had a good job and lovely fiancee, Paula."
Her son, who worked as a chef at the Old Swan pub, used to make soup and give it to pensioners, she said.
"He couldn't walk down the street without saying hello to someone and I've been told by many friends that he'd always stop and help them with their shopping," she said.
"His dad would say that if you could bottle his charisma, he'd make a fortune - he lit up the room when he walked in."
Mr Hughes was found with serious head injuries and stab wounds.
A post-mortem examination confirmed he had died of a single stab wound.
Police have urged anyone with information about Mr Hughes' death to contact them.