West Kirby Marine Lake to be drained for inspection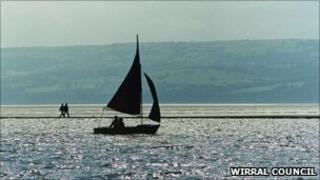 Water sports enthusiasts in Wirral are being warned that a popular spot is being drained next week.
West Kirby Marine Lake is being emptied so engineers can inspect major repairs carried out to the wall last year.
Reinforcement work was carried out in March 2009 after debris was found to be falling off the inner wall.
The lake will be closed from Monday until 4 October to allow it to be refilled after the inspection is carried out.
However, the public walkway around the perimeter of the lake will remain open to walkers.
The walkway was also resurfaced as part of the £750,000 maintenance works last year.
The 52-acre lake is used for water sports such as windsurfing and canoeing, and the wall around the outside forms one of the Wirral Peninsula's most popular seaside walks.