Remains of ancient child Omasker returned to Australia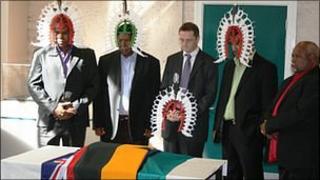 "It is time to bring these remains home, they have had them for long enough."
Elder Kapua Gutchen, from the Meuram Tribe, has flown more than 10,000 miles (16,000 km) from Australia to Liverpool so he can bring one of his ancestors back home.
The mummified baby, called the Omasker, has been held for scientific research since it was taken by English explorers in 1849.
Now the indigenous people of the Torres Strait, a cluster of islands off the coast of north Australia, want part of their history back in its rightful place.
Elder Gutchen, who was joined by three other islanders, met with National Museums Liverpool director Dr David Fleming at the National Conservation Centre earlier.
'Lost tribe'
He said: "It is very very important, it's the start of something big in the future.
"We are very grateful and honoured to have come here to England, in particular Liverpool, to make it possible to take the Omasker back.
"We hope it will set a precedent to all institutions for all the remains of our people to be surrendered.
"We believe that the purpose they were brought for - scientific purpose - they have studied them long enough. They've had them for more than 150 years."
Elder Gutchen conducted a special ceremony for the Omasker where he, along with islanders Ned David and Seri Stephen, sang out asking the remains of the ancient child from a "lost tribe" to come forth.
As the tribesmen walked towards the remains, they asked the spirit to raise up and make itself as "light as a sea eagle" so it could stretch its wings to join them on the trip home to the Torres Strait.
The remains are covered at all times as a sign of respect to the ancient child.
Following the celebration, Elder Gutchen said: "Our community has been frustrated at how long it has taken to bring the Omasker home.
"We thought we will talk to people in England and they will hand those things over immediately."
However, the Omasker has been held in storage for decades. Since it was taken by sailors on the HMS Rattlesnake, it has been at various museums for scientific research.
'Absolute outrage'
When it arrived in Liverpool in 1956, a note was attached to it saying its head had gone missing, believed to have been stolen while it was on display.
Its historical significance, however has not been damaged, and the Meuram Tribe of Erub on the Darnley Island are "delighted" to have received permission to have it back with them.
It is one of 277 sets of remains, taken during colonial times, that the islanders are trying to retrieve from museums across Europe.
Dr Fleming said he was "astonished" to learn that other museums were still reticent about handing remains back.
"I have never doubted for a moment that this is not the right thing to do and I remain astonished when I hear from Elder Gutchen that there are museums who do not co-operate like we have.
"We can't turn the clock back, we can't point fingers, we need to do the right thing now, and the right thing now is to send the remains back home.
"These are the remains of a person we are talking about. If the remains of a British person were taken away to the far side of the world... there would be absolute outrage. And that is exactly what has happened here."
The Omasker will be packaged up and put on a ship back to Australia. It will make one stop in Canberra, before it reaches Darnley Island where it can finally rest in peace.