Marsh harrier breeds in Cheshire for first time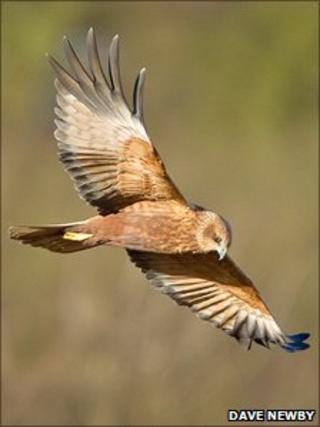 A bird of prey, believed to be rarer than the golden eagle, has bred in Cheshire for the first time.
The marsh harrier, which has a wingspan of nearly 4ft (1.2m), has nested at a secret location in the Gowy and Mersey Washlands, south of the Mersey estuary.
Three chicks have been born and they left the nest in mid-August.
Cheshire Wildlife Trust waited to reveal the success of the breeding programme to ensure the birds' safety.
With around 360 breeding pairs in the UK, and these mostly confined to the east coast, the arrival of the harriers has been welcomed in the north-west.
As a summer migrant, the adults and young harriers will now make their way south beyond the Sahara in Africa, with the youngsters not likely to return to the UK until they are three years old.
Richard Gardner, Cheshire Wildlife Trust's living landscape manager said: "It's extremely exciting news to have marsh harriers nesting in Cheshire for the first time.
"As a species that relies on wetland habitats such as reedbeds, the arrival of the harriers demonstrates the clear need for us to ensure we protect the wider habitats along our rivers and estuaries, especially with the increasing pressures of development and climate change."