Cheating husband jailed for life for strangling wife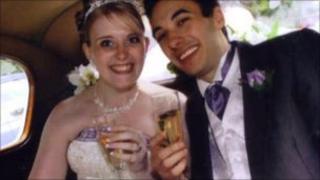 A man has been jailed for life for murdering his wife of five months and hiding her body in their garage.
Michael Roberts, from Runcorn, denied murder, telling Liverpool Crown Court he had accidentally strangled Vicky, 25, during sex.
The 26-year-old, who was having affairs with two other women, ran off when police found the body and later went shopping with one of his lovers.
He has been sentenced to a minimum of 17 years.
Mr Justice Royce told him: "Vicky Roberts was a talented, vibrant, caring, lively and loving daughter.
"I read in the victim impact statements that her laugh was infectious and she lightened every room she entered.
"You cheated on her and deceived her during your relationship, before you married and throughout your short marriage.
"She deserved much better than you."
Fled on foot
Throughout the three-week trial, the Phones4U manager claimed that he throttled his wife with her dressing gown cord because she told him to pull it tighter during a sex game.
However, marks discovered on her neck showed Roberts had used a different ligature to kill her.
The jury took less than four hours to return a unanimous guilty verdict.
After strangling his wife, Roberts wrapped her body in sheets, cardboard and duct tape and hid it in the garage next to their flat in Partington Square.
He then sent numerous text messages from Mrs Roberts' phone to her friends to try to cover his tracks.
He said Mrs Roberts, an account director for Banner Chemicals, had left him for another man.
At one point, Roberts phoned his mother-in-law to ask what her daughter wanted for Christmas.
Mr Justice Royce said that call "defied belief" and "hugely aggravated the killing".
'Brimming with happiness'
Mrs Roberts' father eventually contacted the police because he was concerned about his daughter.
When officers searched the couple's home on 3 December and discovered the body in the garage Roberts fled on foot.
He was finally arrested three days later in Wrexham, north Wales.
Roberts told the court that while he was on the run he had decided to kill himself in a Chester hotel room, but could not go through with it.
He then sent a text message to one of his lovers, Karen Wilson, 26, stating: "I love you Karen now and for always."
He arranged to take her shopping in Chester the next day.
Speaking outside court, Det Insp Jo Miller, the senior investigating officer, said: "Michael Roberts has led a double life.
"He is a very deceitful and arrogant individual.
"He thought he could continue as he wished seeing different lovers while remaining in a loving relationship with Vicky.
"She was described as 'brimming over with happiness' on her wedding day.
"But he couldn't accept his own failings and finish his relationship with Karen Wilson.
"This is no doubt the cause of Vicky's death."