Murder accused husband 'wanted normality'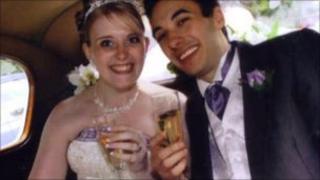 A man wrapped his dead wife in thermal sheets before hiding her body - because he did not want her to get cold in the garage, a court heard.
Michael Roberts texted himself from his wife Vicky's phone days after she was strangled at their Runcorn home.
He told Liverpool Crown Court he wanted to believe she was asleep - and even went shopping for her Christmas gifts to continue the "normality".
Roberts, 27, denies murder and claims her death was an accident during sex.
The court has heard that he cheated on his 25-year-old wife with two other women - Kerrie Hall and Karen Wilson - who were both colleagues at Phones4U.
Despite texting one of the women - Ms Wilson - claiming he had ended the relationship, he told the court the couple were trying to make their marriage work.
On the night she died - 29 November - Roberts, of Partington Square, said his wife presented him with a black bathrobe cord and made it clear she wanted sex.
He said they had sex on their sofa with the cord around her neck, which she instructed him to "pull tighter" three times.
Afterwards, she slumped to the floor and did not move.
"I was waiting for her to jump up and say 'Boo' or 'Raah'," Mr Roberts told the court.
The defendant said he could not explain why he did not phone for an ambulance and instead put her body back on the sofa and covered her with a quilt.
That same night he spoke to Ms Wilson on the phone and arranged to meet her to go shopping in Chester the following day.
He told jurors: "I didn't want to deal with what was happening. Also, I had said I would call her - it would be weird if I didn't."
During the trip, Roberts phoned his mother-in-law, Janet Wynne-Jones, to ask what Vicky wanted for Christmas.
"I actually was looking in Debenhams for various things for Christmas even though I knew she was dead," he said.
Sex with mistress
Later that evening, Roberts and Ms Wilson had a pub dinner in Mold before sleeping together at a Bangor Travelodge.
At this point he had already started texting messages from his wife's phone to himself, her friends and her family.
When asked why he sent them to himself, he replied: "I hadn't heard from her all day.
"I knew I wouldn't hear from her but thought to text myself so I could see her picture on my phone and I was all happy again."
Roberts explained that he bought thermal insulation sheets to wrap up his wife's body after deciding to hide it in their garage.
"I bought thermal because it was winter and I didn't want her to get cold in the garage," he added.
Asked if he had wanted her to die, Roberts replied: "No, not at all."
Earlier, the court heard he had never seriously considered leaving his wife, despite his affairs, because he still loved her.
The trial continues on Thursday.