Fire chief Tony McGuirk sorry for 'bone idle' claim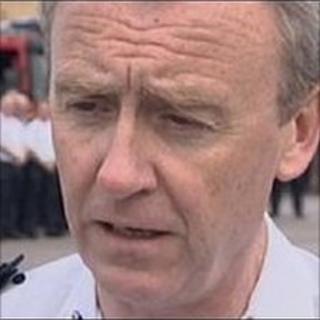 Merseyside's chief fire officer has apologised for claiming that some workers in the public sector are "bone idle".
Tony McGuirk had told a seminar run by an independent think tank that sick leave had become an "epidemic".
Mr McGuirk has said in hindsight he used language which he now "regrets".
But Fire Brigades Union (FBU) general secretary Matt Wrack said the apology was insufficient and has called for his resignation.
Mr McGuirk's comments, in which he told bosses to show "muscle, sack some people", were made in June at a discussion run by Reform, a think tank which focuses on public services.
His comments were then circulated at the TUC conference on Tuesday.
He said during his time as chief officer, the number of firefighters at Merseyside Fire and Rescue Service had been cut from 1,550 to 850.
He said the 40% reduction had not had a detrimental effect on the service, but had actually improved it.
In a statement released on Wednesday, Mr Wrack said the FBU had been inundated with angry calls about the comments.
He said: "An apology is not enough. The greatest contribution Mr McGuirk could make to public services would be to hand his notice in and save Merseyside fire and rescue his £200,000 plus annual salary.
"This salary would pay at least six firefighters and would be much better spent that way. Merseyside firefighters are working longer hours to make up for the shortages Mr McGuirk has created there."
Mark Dunne, chairman of Merseyside Fire Brigade Union (FBU), did not go as far as calling for his job but said his remarks were the latest in a long line of "inappropriate comments".
Comments clarified
"We have received dozens of e-mails from people within the NHS and other public sectors bodies expressing their disgust at his speech," said Mr Dunne.
"The majority of us work in the public sector because we believe in it and we understand that we are providing an essential service."
In his latest statement, Mr McGuirk, who became chief officer of Merseyside in 2002, sought to explain his original comments.
It said: "Much of what I said about public services explained how on Merseyside we had managed to deliver a better service despite extensive government budget cuts and less staff, and this was a model that other parts of public service could follow.
"Many other public organisations are already claiming they cannot make similar reductions, and my concern that these services may be treated as special cases, led me to use inappropriate language.
"I am passionate in defending our service and in hindsight I used language which I now regret.
"I apologise if any staff are upset by my comments."