WWII Arnhem comrades are reunited in Liverpool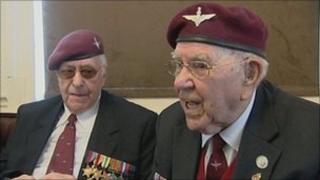 Two World War II veterans who have not seen each other since being captured at the Battle of Arnhem have been reunited in Liverpool.
Parachute Regiment members Gerry Dirmmock and Harry Houghton, who both escaped from the Nazis, are travelling to Holland to remember fallen comrades.
The pair were in a party of Liverpool veterans waved off by the Lord Mayor.
They will take part in a ceremony to commemorate the 1944 Operation Market Garden offensive.
Some 1,000 Allied soldiers died and another 6,000 were taken prisoner in the operation, which took place on the lower River Rhine.
After being captured, Mr Dirmmock dived into the River Rhine and swam to freedom despite being injured by enemy fire.
Mr Dirmmock said: "Arnhem was hell then and it's been hell ever since.
"I was very fit and being only 20 years old I stripped off and swam across the river. I was hurt on the far side, so I was wounded, but I was free."
Forced to withdraw
Mr Houghton described how he and his comrades survived on two days' rations for 10 days after being dropped by parachute seven miles from the strategic bridge at Arnhem.
"We knew it was pretty hopeless - 'Gerry' was watching us. We never saw the bridge, none of us ever saw the bridge.
"We were breaking the end off radiators to get water to drink."
A total of 16,500 British paratroopers from the 1st Airborne Division and 3,500 glider-borne troops had set out to seize the strategic bridge at Arnhem and nearby strategic locations, while American airborne divisions captured bridges between Eindhoven and Veghel.
Despite suffering 3,500 casualties, the American effort succeeded, but the British paratroopers were forced to withdraw.
About 1,000 were killed in the battle, 2,000 escaped, and 6,000 were taken prisoner.